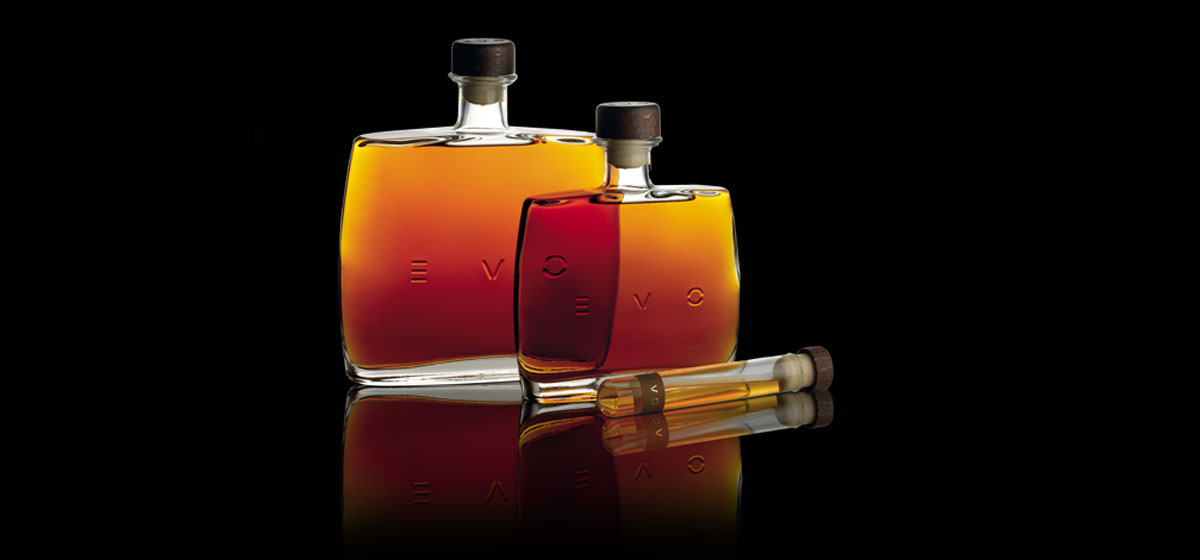 EVO HAS WON THE GOLD MEDAL (97/100!) AT ISW INTERNATIONAL COMPETITION
Product type: grappa riserva
Alcohol content: 42% Vol
Distillation system: discontinuous bain-marie and direct steam distillation. The facilities have vacuum filtration areas
Grapes: blend of Cabernet Sauvignon, Glera and Incrocio Manzoni
Aging: various native wooden barrels. Walnut, Cherry, Beech
Aging time: over four years
Colour: intense brown with amber glints
Nose: The nose picks up on hints of raisins mixed with liquorice, walnut, cinnamon and vanilla. A "sweet" aroma of ripen dates, crème caramel, "torrone" and carob further characterize the elegant bouquet. There is no alcoholic "pungency"
Taste: fine and intense with overtones of spun sugar, vanilla, ripe plum and hints of citrus. A complex and velvety taste
Aftertaste: tones of dried fruit and hits of spice are gently overcome by a pleasant alcoholic sensation. Regal finish.
EVO is a grappa (distilled grapes) that is legally defined as a "riserva" because it ages for more than 18 months in wooden barrels. Specifically, EVO aged for over 40 months. The barrels used are various types of wood barrels and not necessarily from the first cycle.
Each type of wood individually helps give the product a specific feature. Based on the various vintages and the natural and unpredictable maturation of the product during aging, EVO can have slight differences in colour and aromas. This helps further celebrate the absolute authenticity and artisanship of the product. EVO does not contain any added dyes. Its "nuance" is the result of barrel aging. The methods to process the containers and the various types of woods used give this distillate unexpected organic substances and colorants. Thanks to the new processing techniques, EVO has a very limited amount of essential oils ("traces") encouraging the drinkability and increasing their digestion and has a quantity of methyl alcohol that is at the lowest legal limit.