EVO
It is a line of Grappa Riserva and Brandy that reinterpret the Italian tradition. The common thread of this project is the use of different indigenous woods in aging, woods that bring to the distillates of the EVO line an absolutely unique and recognizable style and elegance.
Evo Dwine
D Wine is the result of a double distillation performed separately of various qualities of wines of countryside around Treviso, so that each individual vine can preserve its organoleptic characteristics, but above all to allow a perfect balance in the assembly.
Evo Fumo
The uniqueness of FUMO consists in having "married" the strong personality of vegetable peat smoke (smoking prior to distillation) with the softness given by Cherry wood. FUMO is a blend and therefore the result of an assembly of several grappa made from pomace of different vines and different vintages.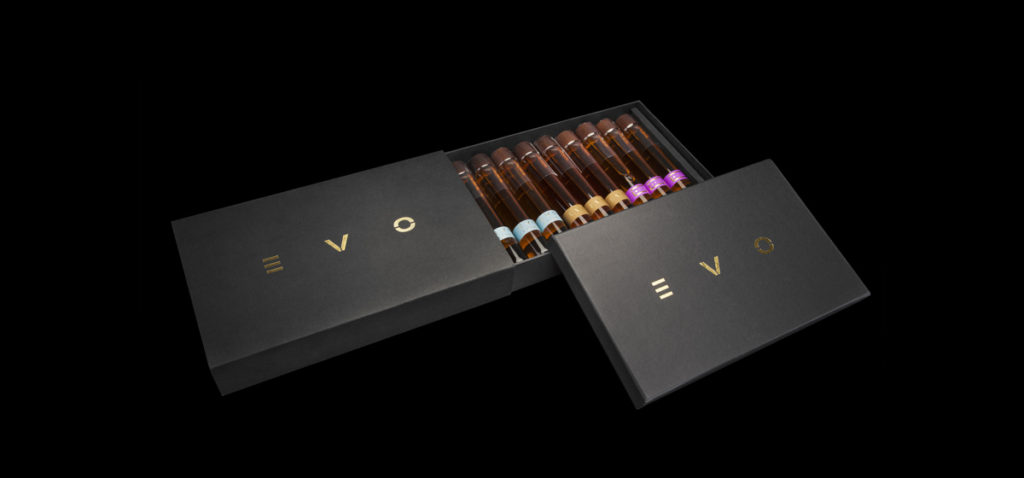 The cigar game
Nothing goes better with EVO grappa than a good cigar. That's why we've come up with a better way to package them that is an alternative to the traditional decanting (from the bottle), makes it easier to pick products from the line or make small "tastings" and allow for the creation of "different," modular and intriguing gift boxes.
EVO & O de V Collection
---
Starting from the Italian tradition to get new products, characterized by a unique, strong, international personality! Or, vice versa, starting from international spirits such as Gin and Vodka reinterpreting them in order to bring them closer to the Italian tradition, playing with the softness and complexity that the Mediterranean offers us.